Guide to BMW Warning Lights: What Do They Mean?

Navigating Ladue roadways requires precision and power. And when it comes to enjoying your Ballwin area commute and your weekend adventures, there's nothing quite as enjoyable as the heart-pounding performance of a BMW. To keep your BMW's precision and power operating at their peak, it's best to understand and quickly address your BMW warning lights. Please review our guide to BMW warning lights and their meanings, so you can get back to commanding the roads confidently and safely.
---
BMW Warning Lights and Their Meanings
While the dozens of possible warning lights can seem like a lot to manage, many of them are self-explanatory, and a few just require a simple DIY fix. However, some warning lights can indicate immediate service is required, or that service is required soon, so make sure you know what to look for. The list below highlights some of the more common BMW warning lights and their meanings.
Empty or Low Fuel: You have approximately 30 miles before you completely run out of fuel. Stop by a Ballwin-area gas station for a fill-up, as driving too long on low fuel can damage your fuel system.
Tire Pressure Monitor: If this light is triggered, it means that one or more of your tires is underinflated. If you see a yellow light, the tire pressure is about 10% low on air, while a red light indicates rapid deflation has occurred.
Oil Can: This symbol means your vehicle is due for an oil change soon. This is an essential part of regular maintenance, and not addressing it can cause severe engine damage.
Light Bulb: If this symbol comes on, then one or more external lights are out or experiencing an issue. If the warning symbol is still on after you change out the bulbs, further investigation at our service center might be needed.
Thermometer:This indicates your engine is getting too hot and is potentially overheating; this can be both dangerous and damaging to your engine. If you aren't near a BMW service center, we recommend you safely bring your car to a stop so your engine can cool down, and then schedule a visit at our service center as soon as possible.
Engine: When this warning light flashes or stays on, you will want to have your vehicle serviced immediately to have the powertrain system checked, as it means there is an issue with your engine or its components.
Dynamic Stability Control: This light isn't one to worry about too much–it indicates that the traction control system has been engaged to regain control on a slippery surface. You can learn more about this feature in your owner's manual.
Service Vehicle: If this light is yellow, it means your BMW will be due for service soon. If you BMW becomes overdue for service the light will turn red.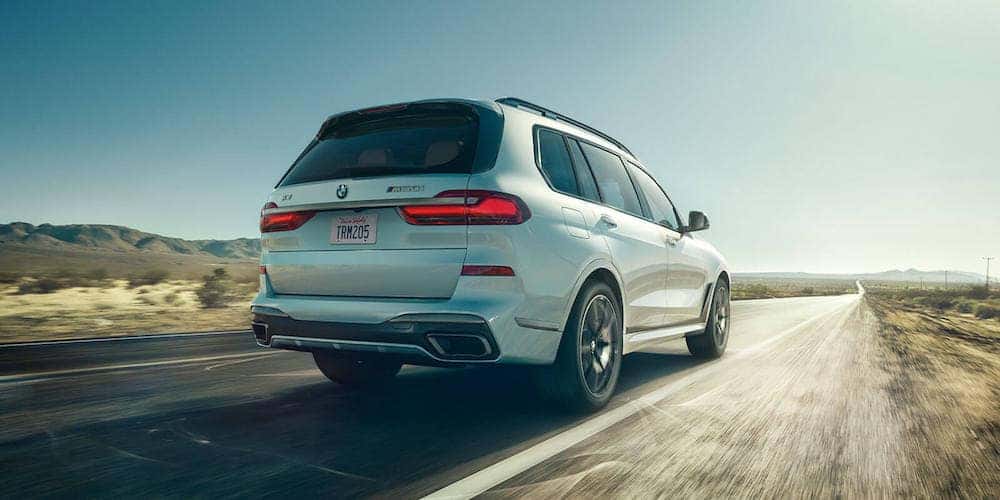 ---
BMW of West St Louis Can Help With Your BMW Warning Lights
If you have questions about model-specific warning lights or routine maintenance, feel free to contact us at your convenience. Interested in learning about model features, or have questions about specials and availability in the Manchester area? Want to customize your X5, 5 Series, or X3 to make it your own? We have genuine BMW accessories to enhance both the interior and exterior styling of your BMW. In the meantime, learn about our new vehicle specials and to discover more about the exhilarating BMW lineup.
---
Explore Our Models
Drivers in Ballwin who want a luxury midsize SUV with the power to tow their boats or RVs to the Lake of the Ozarks are in luck: the 2020 BMW X3 towing capacity is high enough to get your gear where you want to go. The BMW X3 towing capacity is 4,400 pounds. BMW keeps…

How much does the BMW X3 cost? Starting at $41,950 MSRP, this 2020 BMW SAV® (Sport Activity Vehicle®) is an affordable luxury crossover for Ballwin drivers and beyond. At BMW of West St Louis, learn more about the BMW X3 cost at each trim level and find out what features are offered at each BMW X3 price point. Then…

If you are searching for a luxury SUV that has a good blend of power and fuel-efficiency, consider the 2020 BMW X5. With several engine options to choose from and up to 26 mpg, you can decide what combination of engine specs best fits your needs. Learn more about the 2020 BMW X5 fuel economy…