BMW sDrive vs. xDrive: What's the Difference?
When shopping for a new BMW in St Louis or Ladue, you will probably come across options like BMW sDrive and BMW xDrive–but what do those terms mean? These are two types of specialized BMW drivetrains: sDrive is a BMW two-wheel drive system and BMW xDrive is the BMW AWD system. Explore BMW sDrive vs. xDrive differences at BMW of West St Louis.
---
What is BMW sDrive?
The BMW sDrive system transmits power to two of the BMW wheels–either to the front wheels like in the BMW X2 crossover SUV for excellent fuel economy, or to the rear wheels like in the 7 Series sedan for sporty handling and cornering.
What is BMW xDrive?
BMW xDrive all-wheel drive is an intelligent all-wheel drive system standard on models like the BMW X7 SUV. Here's how the BMW AWD system works:
Working in tandem with the BMW Dynamic Stability Control feature, it uses electronic sensors to monitor road conditions.
If slippery road conditions are detected or if the system senses loss of traction, it electronically sends power to the wheels or wheel with the most traction.
This means your BMW can prevent or respond to sliding quickly and help you maintain control on Manchester roads.
This feature is not only great for challenging road conditions, but it also gives you more control when cornering so you can have a more fun and responsive drive.
---
BMW sDrive vs. xDrive Differences
Additional points when comparing BMW sDrive vs. xDrive include price, acceleration rate, and curb weight. We've used the BMW X1 crossover as an example to illustrate the differences:
2020 BMW X1 sDrive – $35,200 MSRP: 228 hp, 0-60 mph in 6.6 seconds, 258 lb-ft of torque, 3,554 pounds curb weight
2020 BMW X1 xDrive – $37,200 MSRP: 228 hp, 0-60 mph in 6.3 seconds, 258 lb-ft of torque, 3,713 pounds curb weight
Transmission: Both have the same 8-speed STEPTRONIC automatic transmission with Sport and Manual modes
Which Models Have BMW xDrive or BMW sDrive?
Check out the lineup of new BMW models and see if your favorite has the drivetrain you want:
Models with Standard sDrive: BMW 7 series, X1, X2, X3, X5, X6, Z4
Models with Available xDrive: BMW 2 Series, 3 Series, 4 Series, 5 Series, 7 Series, 8 Series, X1, X2, X3, X5, X6,
Models with Standard xDrive: X4, X7, i8, M5, M8, M8 Gran Coupe, X3 M, X4 M, X5 M, X6 M
Models with Normal Rear-Wheel Drive: i3, M2, M4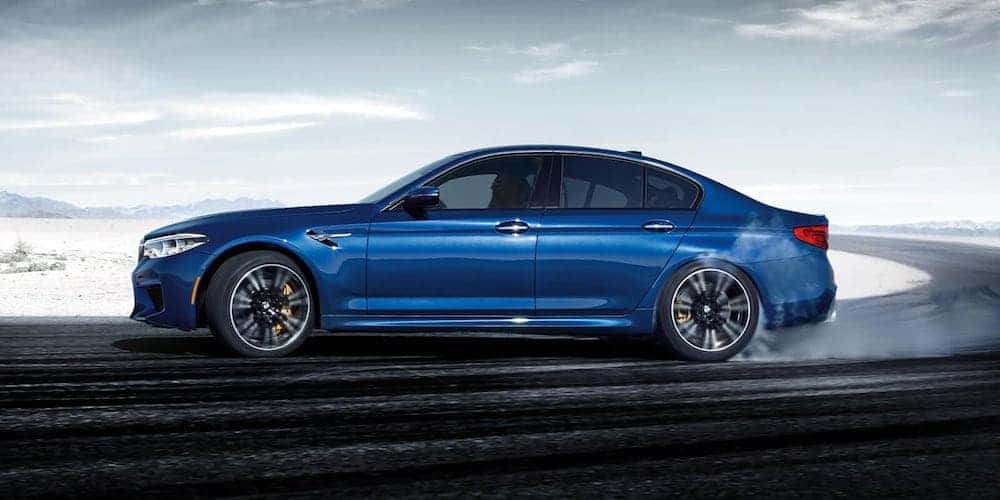 ---
Test Drive BMW sDrive or xDrive in Manchester
Ready to see how an sDrive or xDrive feels in action? Browse our inventory to find a new BMW for sale that has the drivetrain and performance you're looking for in Ballwin or Des Peres, then contact us to schedule a test drive. You can also learn about some of the fastest models in the BMW lineup.
---
Explore Our Models
Each vehicle in the new BMW lineup is designed for maximum comfort on the St Louis roads while also providing an exciting driving experience. There's a lot to appreciate with a BMW and we think you can't go wrong with any option. However, one popular model that many Ballwin drivers appreciate is the BMW 4 Series….

If you're looking for a luxury vehicle that delivers unbeatable comfort, the 2023 BMW X5 has you covered. Its interior is packed with the latest features and offers high-quality materials to keep you comfortable and connected on the St Louis roads. Meanwhile, the exterior design of the new BMW X5 is stylish and modern without being…

If you want the performance of a sporty vehicle and the versatility of an SUV, BMW has you covered with its selection of BMW Sports Activity Vehicles®. One popular option within the BMW SAV® lineup is the 2023 BMW X3. The BMW X3 has long had a reputation for providing exciting driving dynamics around…